In this series we take a dive into the more technical aspects of our platforms and how to use them. 
How can you make sure that the Virtual Machines that you deploy are cyber safe and backed up.
Safe and backed up Virtual Machines resulting in a safer cloud.
We use our strong partnership with Acronis to offer MSPs the Cyber Protect Cloud solution in a per GB per month model. This is a very cost effective way for most MSPs because you don't need to keep track of workloads etc. You just have one metric, GB in use!
Why do you need to protect your VMs?
Hello, wake up, Cyber threats are everywhere in every form: malware, spyware, SQL injection, code injection, ransomware, DDOS etc.
There is something very simple you can do, make sure that every Virtual Machine you deploy has backups enabled and Cyber Protection running. On most of the VMs this is a very simple installation procedure.
How can we help when you use our Cloud?
We help in different ways. First of all, we already take full snapshots of your disks every hour. This is not like a backup where you can determine what piece to restore but it helps to restore the machine fast without long interrupts.
Our recent announcement with Acronis has also opened an opportunity for MSPs to offer a backup and Cyber Security solution based on our S3 storage. This gives our MSPs a great model to sell backups including Cyber Security per GB per month to customers. We provide this service through our newly created brand backupsky.cloud.
Below you can see the portal and some branding options for your brand.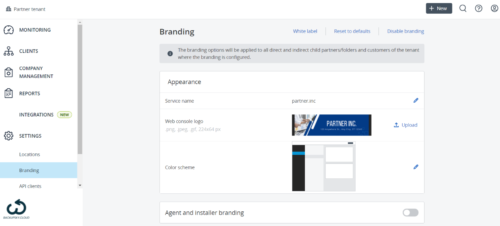 You can request a 30-day free partner tenant trial and offer your customers free backups and cyber security. After that it's up to you whether you want to continue or not, no strings attached.