In this series of posts, sometimes including video, we put the spotlight on existing and new features.
Setting proper pricing for your customers inside the VCO portal .
Using the flexibility of location pricing and custom account pricing in multiple currencies.
We recently (01/04/2022) introduced multi currency support for our price management. This blogpost covers this new feature too.
How does our pricing system work?
Our pricing management system has four major features:
Purchase (buying) price per location
Selling price per location
Default currency for usage and billing per customer
Custom pricing per customer
These different pricing features guarantee you a lot of account based flexibility. 
Purchase (buying) prices overview
Before setting the prices you'll be charging your customers, you'll probably want to know your purchase price. 
In the left navigation menu, as a submenu of Cloud admin, you can choose the Locations option to show an overview of the location prices. A location is the physical location of the data centre that hosts our hard- and software.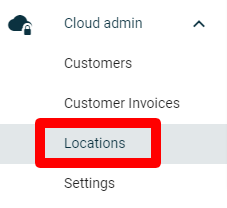 The following will appear.
Price information
Below we show fictional prices. Real prices depend on agreements with the VCO and are shown in the VCO portal.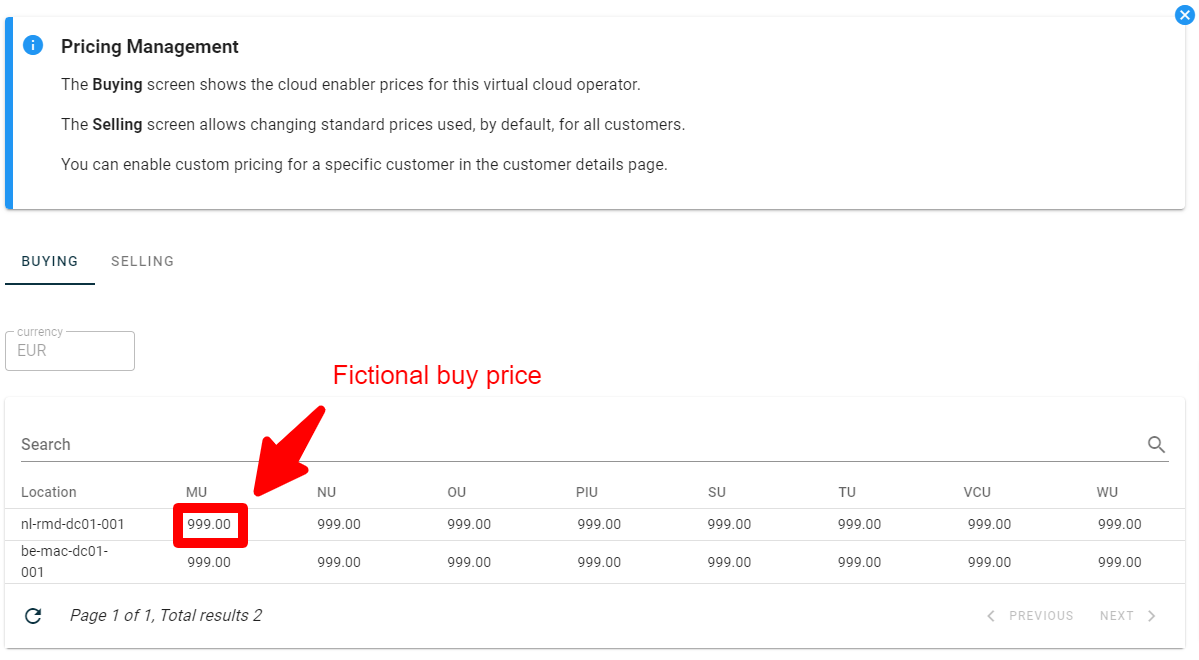 The prices you see here are the prices we currently charge per service. Here's an overview of our abbreviations:
MU: memory unit
NU: network unit
OU: object unit
PIU: public IP address
SU: storage unit
TU: transaction unit
VCU: virtual CPU unit
WU: Windows unit
Memory Unit (MU)
Type : Allocation Definition: 1 MU equals to 1GiB of allocated memory Examples for CU/VCU/MU
| Resource type | Memory | vCPUs | CUs | MUs | VCUs |
| --- | --- | --- | --- | --- | --- |
| VM | 4 GB | 1 | 1 | 4 | 1 |
| VM | 3 GB | 2 | 1 | 3 | 2 |
| VM | 4 GB | 2 | 1 | 4 | 2 |
| VM | 5 GB | 2 | 1.25 | 5 | 2 |
| VM | 4 GB | 3 | 1.5 | 4 | 3 |
| CS with 3 VMs | 3 x 5 GB | 8 | 4 | 15 | 8 |
Network Unit (NU)
Type: Consumption Definition: 1 TB consumed traffic from & towards the virtual firewall or external IP address on a VM
Public IP Address Units (PIU)
Type: Allocation Definition: 1 assigned public IP address equals to 1 PIU
Storage Unit (SU)
Type: Allocation Definition: 1 TB of allocated vdisk capacity Example: Calculate number of SUs for a VM with 1 boot disk and 1 datadisk
| bootdisk size | datadisk size | SU |
| --- | --- | --- |
| 12 GB | 512 GB | (12+512)/1024 = 0.52 SU |
Transaction Unit (TU)
Example: Calculate SU for a VM with 1 boot disk and 1 datadisk
| bootdisk limit | datadisk size | TU |
| --- | --- | --- |
| 2000 IOPS | 10000 IOPS | (2000+12000)/400 = 35 TU |
Virtual CPU Unit (VCU)
Type : Allocation Definition: 1 virtual cpu in a VM equals to 1 VCU
Windows Units (WU)
Type: Allocation Definition: for each deployed VM with a Windows OS image its CU counts as WU. Future update:  the Microsoft SPLA usage will be billed based on the reports by the Octopus.cloud agent running mandatory on all Windows VM's.
When we select the selling tab in the price management overview screen, we will see an overview of the selling prices that are currently set. 
Pricing information
Below we show fictional prices. Real prices can be set by the VCO for their own customers.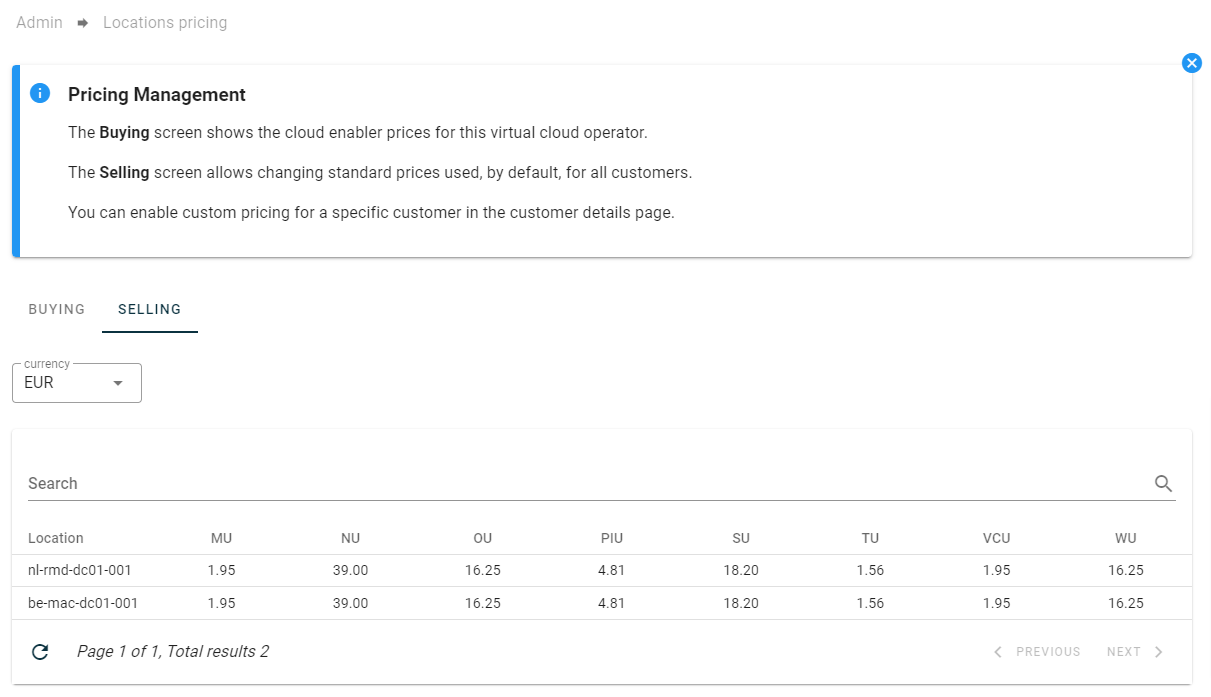 The selling prices that we see here are the default prices for a location. If you sign up a new customer in the VCO portal the default prices will apply.
Prices can be set up per currency. Through the dropdown menu you can switch between currencies.

If you select a currency it will ask you if you want to convert prices from the currency that was selected to the currency you picked.


Basically you have two options in this screen (three if we include cancel):
Proceed without converting
Convert

If we click Proceed without converting the prices will be ono-on-one the same. So if we take the NU, which is 39€ in this case, and pick USD it will then be 39$.
When we choose to select convert the price will be calculated based on the conversion rate. In this case the conversion rate is a value that tells us how much USD 1 EUR is.
If the convert button is clicked the conversion between prices will take place and the pricing table for USD is filled.
The currency selected will be used as default for new customers.
There is always the option to edit every individual unit price by using the Edit button.


Changes can be undone by using the Discard changes button.
Out of the box all new customers get the default pricing set by the VCO. However, it is possible to pick a client and set custom prices based on the default prices.
To enable custom customer pricing pick Customers in the left menu.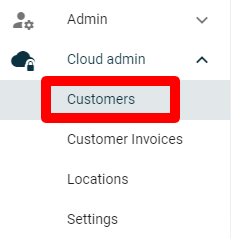 The following screen wil show.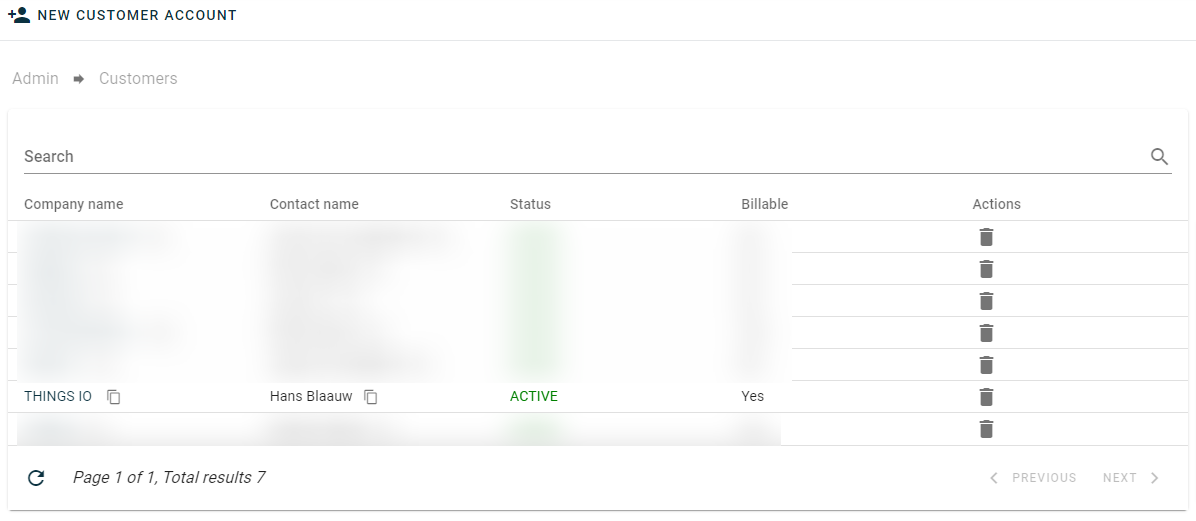 This list shows all available customers for this VCO portal. We pick an available customer in the list.
A screen with basic info about the customer will appear.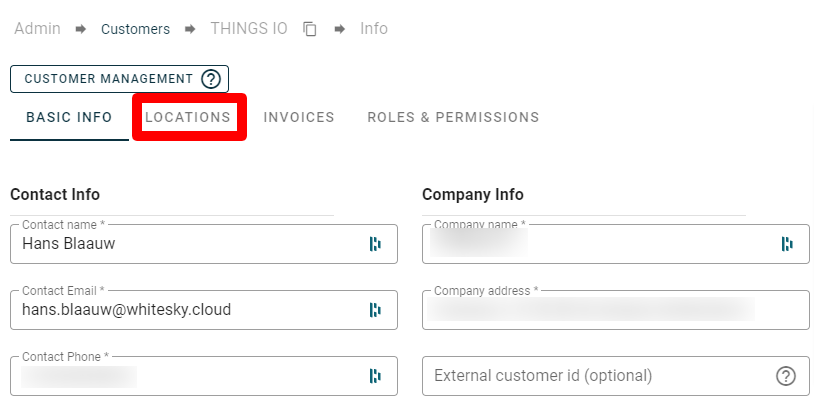 To be able to set custom pricing we need to select the Locations tab. The locations tab will shows use the pricing setup per location for this customer.

Here we can see the same locations overview as described before. There is a difference, we are free to assign locations to a customer too, so sometimes this overview features less locations.
After the currency selector there is a remark which says what kind of pricing we have set for this customer. Either the standard prices or custom prices.
The procedure with multiple currencies works the same as described before except this time it is only on the customer specific level.
By clicking Edit is is possible to overrule every individual unit pricing.
On this page you can execute three main actions depending on the situation:
Save: save all the changes
Discard changes: cancel the changes
Reset to standard prices: revert back to the location prices.
In this post we explained in detail how our pricing works. If things are still unclear please don't hesitate to ask, we are there to help!